Insurforce
Insurforce is a Quote and Buy platform built on an innovative Underwriting Engine from House of Insurtech that incorporates data from customers and 3rd party data sources.
The modern cloud-based platform is delivered as a set of micro service APIs which means that it can be integrated into your own website or mobile app by your existing web developers.
The platform delivers a Quote and Buy website and full Policy Administration System for new and existing insurance products. The system is highly flexible and can support both simple and complex underwriting needs, is equally at home Commercial and Personal Lines. Once set up can be easily maintained by non-technical administrators.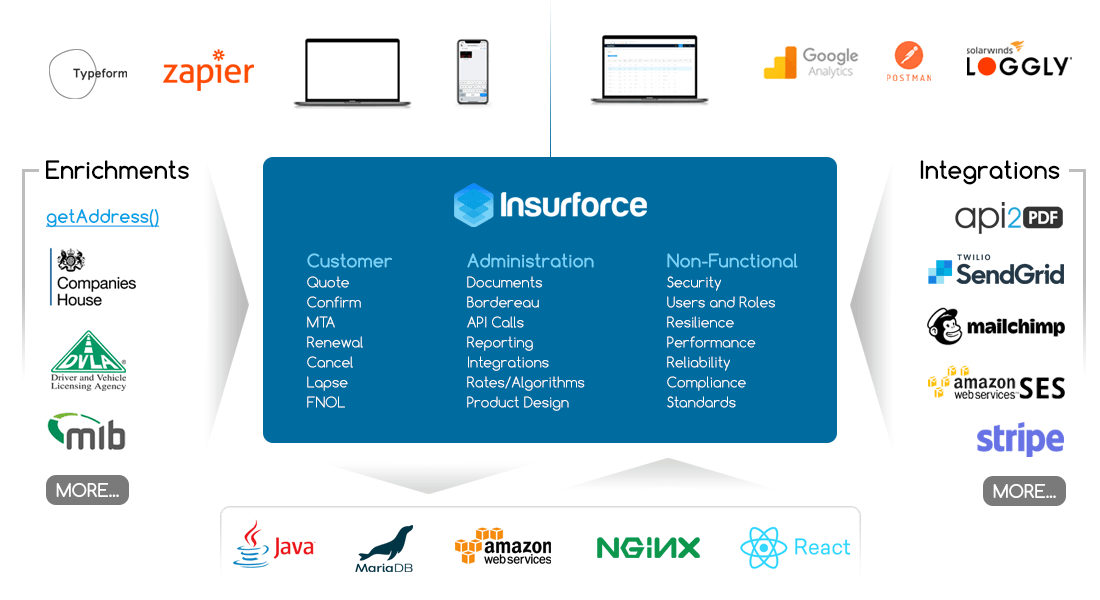 First-class Customer Experience
Omni-channel
Mobile, web, portal, Iot, 3rd party sites, Affinity partners – the API is suitable for all of these devices and channels. You can even choose to amalgamate them or treat them separately.
Customer choice
Customers can manage all aspects of their their policies online. Renewals, MTAs, Claims, Documents, Cancellations can all be carried out 24/7 via web, mobile or via the call centre, allowing your customers to choose the method that's best for them.
Full Control
No templates, iframes, subdomains or white labels that you are forced to use. You decide the customer journey without constraints.
Built for Data Enrichment
Fast integration
A new data enrichment service can be added to InsurForce in double quick time as each enrichment is just a new service that can be used in a quote.
Easy to Maintain
Using the built in enrichments means that you don't have to worry about endpoint changes as the connections to third parties are all taken care of for you.
Rating Services
Complete flexibility about rating services, in-house, external, custom built the platform is agnostic.
Increase internal efficiency
Task Oriented Design
The right info at the right time to let admins get things done quicker.
Automation
Renewals, documents, customer self-service all automated.
Efficiency
Easy to use, simple navigation and fast response.
Integrations and Ecosystems
Openness and Standards
Our APIs are open with code samples for many languages. We use standard components to ease integration.
Best of the web
Pick the best tools for the job (Salesforce, Mailchimp, Zapier etc.) and Insurforce for Insurance and integrate them together.
More choices
Complete flexibility about rating services – in-house, external, custom-built the platform is agnostic.
Analytics
Analytics are included right the way through the purchase path, Google analytics and other tracking tools are supported.
Branding
You control your branding 100% of the time. Web, mobile, email, policy documents can all be under your brand and creative control.
Campaigns
Export data for campaigns, connect to CRM (API or manually) real time reporting all help to run effective campaigns.
Speed to Market
Deliver an online quote journey in days not weeks. Simply provide us with your underwriting spreadsheet and rules and we can create the API and optionally the front-end App in a matter of days.
Fast Response
The service is designed to be fast and responsive. The core underwriting engine is separated from any business logic which means it can really fly, vital in today's market.
Flexible
Separating the underwriting process from the user experience means that the service is great for both Life and Health and General Insurance. Our methods are able to support complex risk requirements and scenarios in a manageable way.
Reduced operating costs
By simplifying the development process we are able to significantly reduce the costs associated with delivering an online quote journey. Whether it's just the API or a full web and mobile application our component architecture keeps costs low.
Low Impact
The service based approach reduces the impact on your IT team's workload. Integration can be via the API itself or via Bordereau or other reporting mechanisms. You specify what you want and INSURFORCE will deliver it.
Reliable and Scalable
The cloud architecture allows us to deliver real world performance that people used to dream about, failover, backups, resilience, security and scalability are all built into the service.